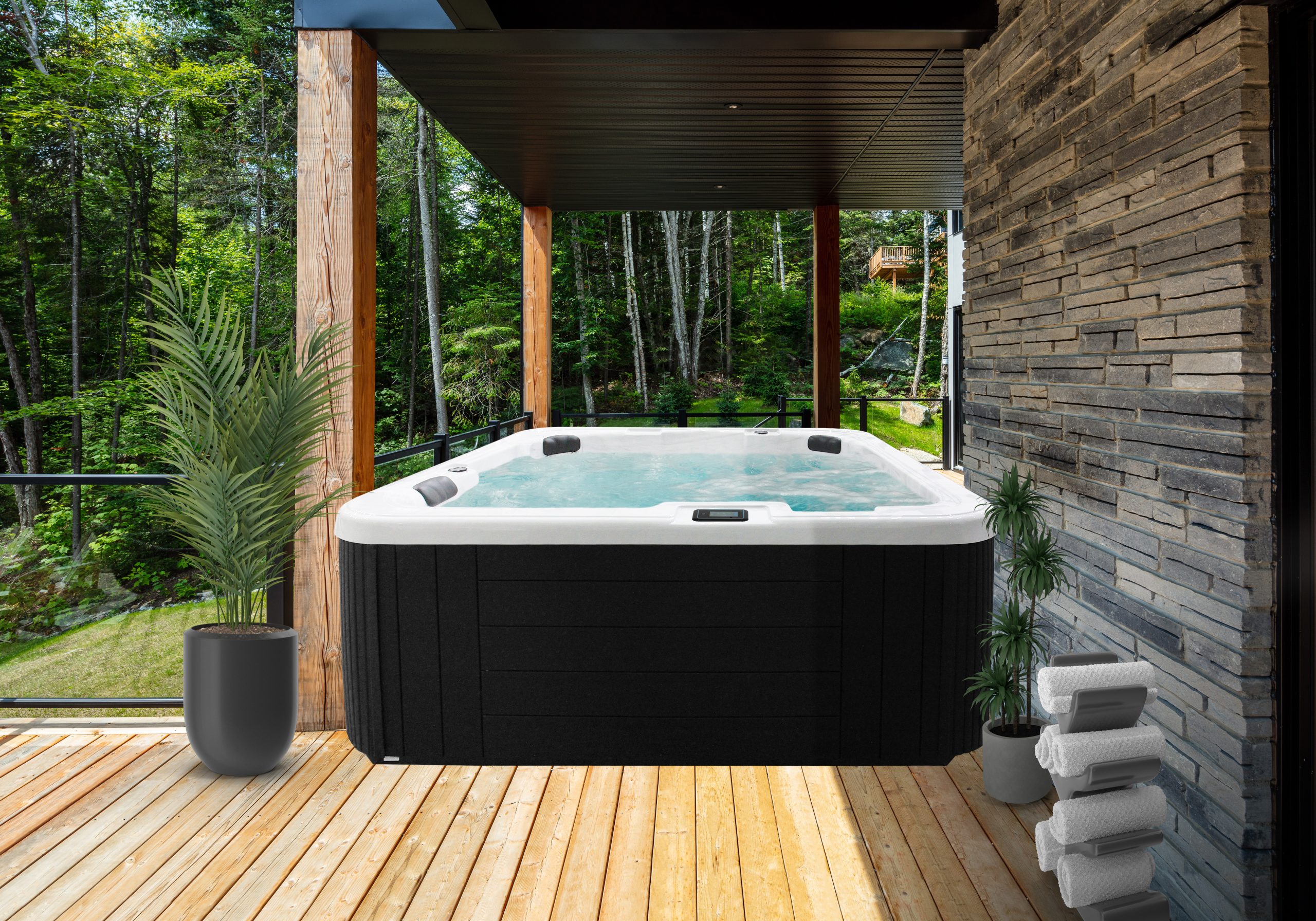 Aspen is a high-quality spa manufactured in Quebec, offering the ultimate relaxation and wellness experience. This spa is designed to meet the needs of anyone seeking a moment of tranquility and well-being.
The features
With its 5 seats and 1 lounger, the Aspen spa can accommodate up to six people, providing an unforgettable relaxation experience with friends and family. Equipped with 35 therapeutic jets designed to stimulate pressure points in your body and promote blood circulation, the LX 2-speed pump and blower provide unmatched massage power for deep relaxation. You can customize your experience by adjusting the jets for a softer or more intense massage.
With its ozone sanitation system, you can be sure that the water is clean and healthy. Ozone is a powerful oxidizer that destroys bacteria and contaminants without leaving any chemical residue in the water.
Comfort and relaxation
The Aspen spa seats are designed to provide optimal comfort and a perfect relaxation position.
Quality and reliability
Designed with particular attention to detail, the Aspen spa is not only aesthetically beautiful, but also built to last. Made from the highest quality materials, this spa is designed to withstand the elements and provide you with years of use and enjoyment. The Aspen spa is also equipped with an advanced filtration system to ensure that the water remains clean and clear. The filter is easy to maintain and can be cleaned in just a few minutes.
By choosing the Aspen spa, you are investing in a superior quality product made in Quebec, offering an unparalleled relaxation and wellness experience. With its numerous features and exceptional performance, the Aspen spa is the ideal choice for those seeking a spa for relaxation.
Specifications
Number of jets

44

Number of seats

5

Lounge chair

1

Number of fountains

0

Lights

Led light + Air/Water Multi-jets

empty weight lb

900 lbs

Empty weight KG

410 kg

Water weight LB

3,600 lbs

Water weight KG

1,600 kg

wi-fi connectivity

No

Dimensions

91" X 91" X 39"

Water capacity

1,500

Number of pumps

2 LX 2-speed 4HP pump + 1 blower

Sanitation system type

Ozone

Control system type

No

acrylic color

Sterling
Our spas
Even more models