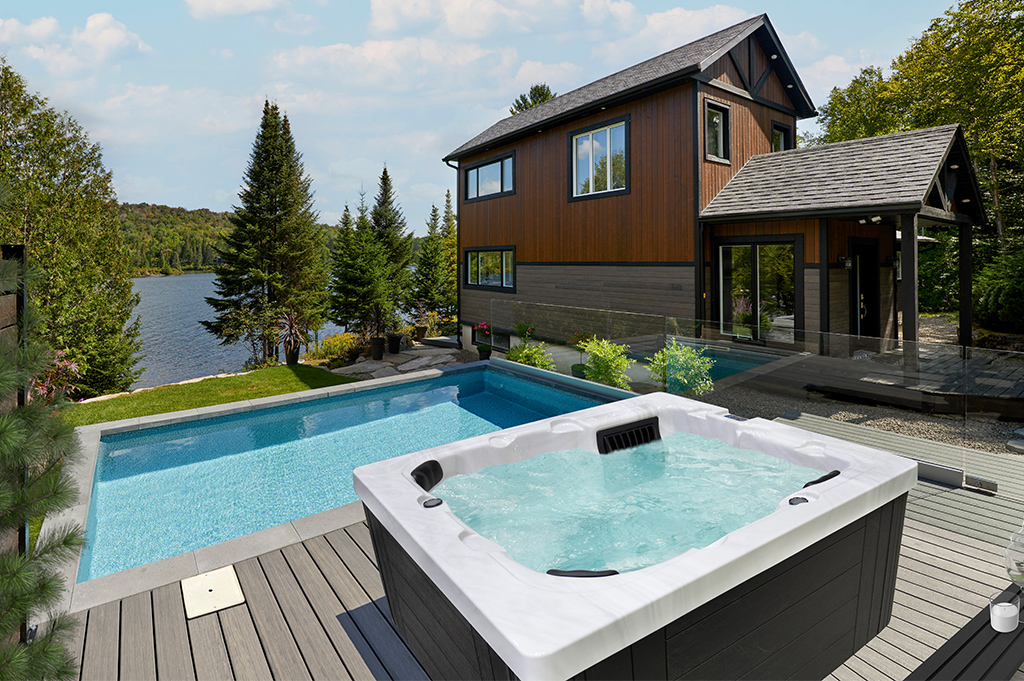 The Atria spa is an exceptional product manufactured right here in Quebec. Its design is carefully thought out to offer an unparalleled relaxation and wellness experience.
The features
The Atria spa is equipped with a 4HP LX 2-speed pump and a blower, ensuring an efficient and relaxing spa experience. The 30 jets are strategically placed to provide superior and personalized massage, and the 5 seats and lounger allow multiple people to enjoy the spa at the same time. The multi-jets allow you to customize your hot tub experience according to your preferences, creating a relaxing atmosphere.
With its ozone sanitation system, you can be sure that the water is clean and healthy. Ozone is a powerful oxidizer that destroys bacteria and contaminants without leaving any chemical residue in the water.
Comfort and relaxation
The Atria is designed to offer ultimate comfort. The five seats and lounger are ergonomic and provide lumbar support to relieve back pain. Whether it's to relieve muscle aches, headaches or just to relax, the Atria spa offers the ultimate relaxation experience through hydrotherapy.
Quality and reliability
The Atria is made with superior quality materials to ensure its durability and reliability. The Atria spa is also equipped with an advanced filtration system to ensure that the water remains clean and clear. The filter is easy to maintain and can be cleaned in minutes.
Discover it now and enjoy an incomparable moment of relaxation at home!
Specifications
Number of jets

30

Number of seats

5

Lounge chair

1

Number of fountains

0

Lights

Led light + Air/Water Multi-jets

empty weight lb

700 lbs

Empty weight KG

320 kg

Water weight LB

3,600 lbs

Water weight KG

1,630 kg

wi-fi connectivity

No

Dimensions

82" X 82" X 36"

Water capacity

1,350

Number of pumps

1 LX 2-speed 4HP pump + 1 blower

Sanitation system type

Ozone

Control system type

No

acrylic color

Sterling
Our spas
Even more models