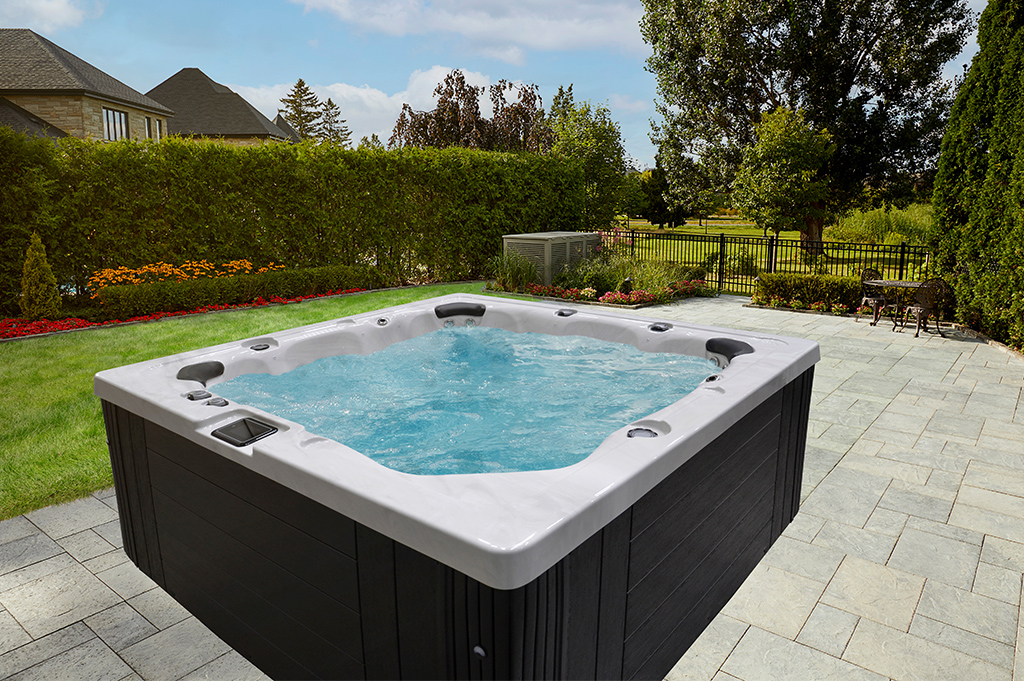 The Orion spa is designed to offer you an unparalleled relaxation and wellness experience. With its exceptional features, it's easy to see why the Orion spa is one of the top choices for those seeking to unwind and enjoy the benefits of hydrotherapy.
The Features
 The Wi-Fi remote control in.touch 2® is a convenient feature that allows you to control your spa from a distance. You can turn the spa on and off, adjust the water temperature and jets, and even receive alerts in case of issues. It's a convenient way to manage your spa from your phone or tablet, wherever you are. Additionally, the Orion spa is equipped with 7 seats, providing ample space to relax comfortably.
The Orion spa also has 2 fountains for an even more soothing spa experience. With its 56 jets, 2 Lx 2-speed pumps, and 1 blower, this spa will provide you with an exceptional massage experience to soothe muscle pain and improve blood circulation. With its ozone sanitation system, you can be sure that the water is clean and healthy. Ozone is a powerful oxidizer that destroys bacteria and contaminants without leaving any chemical residue in the water.
Comfort and relaxation
 The Orion is designed to offer ultimate comfort. The seats are ergonomic and provide lumbar support to relieve back pain.
Quality and reliability
 Made in Quebec, this spa offers exceptional manufacturing quality that guarantees a long life and an unforgettable spa experience. The Orion spa is also equipped with an advanced filtration system to ensure that the water remains clean and clear. The filters are easy to maintain and can be cleaned in minutes.
In summary, the Orion spa is the ideal choice for those seeking a high-end, superior quality spa to relax and enjoy the therapeutic benefits of hydrotherapy.
Specifications
Number of jets

35

Number of seats

7

Lounge chair

0

Number of fountains

0

Lights

Led light + Air/Water Multi-jets

empty weight lb

700 lbs

Empty weight KG

320 kg

Water weight LB

3,600 lbs

Water weight KG

1,630 kg

wi-fi connectivity

No

Dimensions

82" X 82" X 39"

Water capacity

1,350

Number of pumps

1 LX 2-speed 4HP pump + 1 blower

Sanitation system type

Ozone

Control system type

No

acrylic color

Sterling
Our spas
Even more models